NEW 1932 NKP/C&O steel 9'4" IH boxcars.
Flat kit $85.00. Assembled body $115.00.
Also have correct brass roping staples for $8.00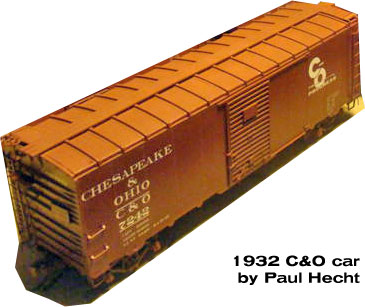 In 1934 the NKP ordered 500 of the new ARA 1932 design boxcars. At the same time the C&O also ordered 650 of the same design. These cars were built under lot 5499 by Pullman at Michigan City, Indiana. The NKP cars were delivered in July 1934 series 13000-13499. The C&O cars were delivered in August 1934, series 7000-7649. The distinctive features of these cars were the Hutchins radial roof, the geared vertical staff brake, with a square staff, and the small tabs along the bottom car side. Push pole pockets were eschewed in favor of towing staples located at the body bolsters. The cars were built with AB brakes.

Click here for car details and instructions.