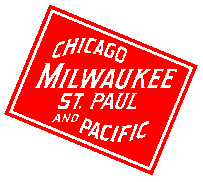 The Milwaukee Road - Northeast Iowa
Dubuque Division/Iowa & Dakota Division
Fox Valley O Scalers/Elgin, IL



LAYOUT AT A GLANCE

Owner's Name: Ted Schnepf/ Fox Valley O Scalers RR Name: Milwaukee Road, Dubuque/ Iowa & Dakota Divisions Website: http://RailsUnlimited.ribbonrail.com/ then to the Fox Valley section Scale: O scale 2 rail, with some On3 Size: 4100 square feet. (Home is 9 sided varying footprint). 405 feet of aisle, 9 & 10 foot ceilings. Prototype: Milwaukee Road Locale: Northeast Iowa, Dubuque to Marquette to Calmar. Mississippi River Valley. Era: dual eras, 1954 and 1929. Style: linear, multideck, with the addition being a mushroom track plan (under construction). Number Decks: Two sceniced, and two staging. Mainline run: 900 feet. (excludes staging and there is no helix). Minimum radius: mainline is 84" radius, super elevated. Several larger radius, cosmetic curves. Typical aisle width: three to five feet. Flowing curved fascias. Turnouts: Mostly #8 and #10's, Minimum turnout is #7 (only 8 of them). Total of 300 hand laid, full spiked turnouts. Maximum grade: The mainline has a 3 ½% helper grade. Most mainline grades are 1 ½%. A side track has a 6 ½% grade. Benchwork: Cantilevered from wall and open grid. Some of the cantilevered sections are 7 foot deep. Spline and plywood support Height: 29 to 95". Constantly varying as per prototype. Raised floor in several locations. Roadbed: Homasoate Track: Mainline is code 125 and 148. Sidings code 100. Some track is hand laid. There is about 8000 lineal feet of track. Scenery: (method and %). Scenery is about 60% complete and varies in construction from hard shell over cardboard lattice to plaster over foam. Rock outcroppings are anything from real rocks, plaster castings, serrated foam and serrated ceiling tile. Backdrop: Masonite and wall board painted with clouds.The new section has the "flying backdrop". Control: NCE DCC with some sound Operating Crew: maximum is 23 (mostly 2 man crews) with 13 throttles. Operating System: Car cards with 4 cycle waybills. Prototype based timetable sequence. Central dispatcher and moveable Mississippi River bridge tender, issuing verbal authority. Special Features: 1. A curved, "flying backdrop" (24' long)
2. Staging yard (8 tracks) 90 feet long hanging from the ceiling
3. Cantilevered levels (one spot 7 feet deep)
4. Large frog turnout's, #10 and #12's.
5. Coal mine with 4- 50 foot long double ended tracks on a grade.
6. Large industries (railroad size)
7. Long staging tracks 90 feet each, double ended allowing multiple trains per track.
8. Large yards ( Marquette 400 cars)
9. Prototype influence in track planning and copying prototype towns.
10. Large urban city in beginning stages of modeling (Dubuque)
11. Swing bridge across an aisle
12. Long, multiple industry, house tracks per prototype.
13. Generous use of double ended tracks.
14. Lap siding at Spechts Ferry
15. Siding on a trestle at Edmore
16. Lap frog turnouts in Marquette engine terminal.
17. Wye with a diamond in Marquette.v 18. Interesting traffic mix of meat trains, a banana train, and the oil train.
19. Passing tracks up to 37 cars long.
20. Layout extends beyond house footprint.
21. Flowing curved fascias.
22. In addition, recessed turnout controls leaving a smooth fascia
23. Ramp from 9' to 10' deep basement
24. LED lighting for levels.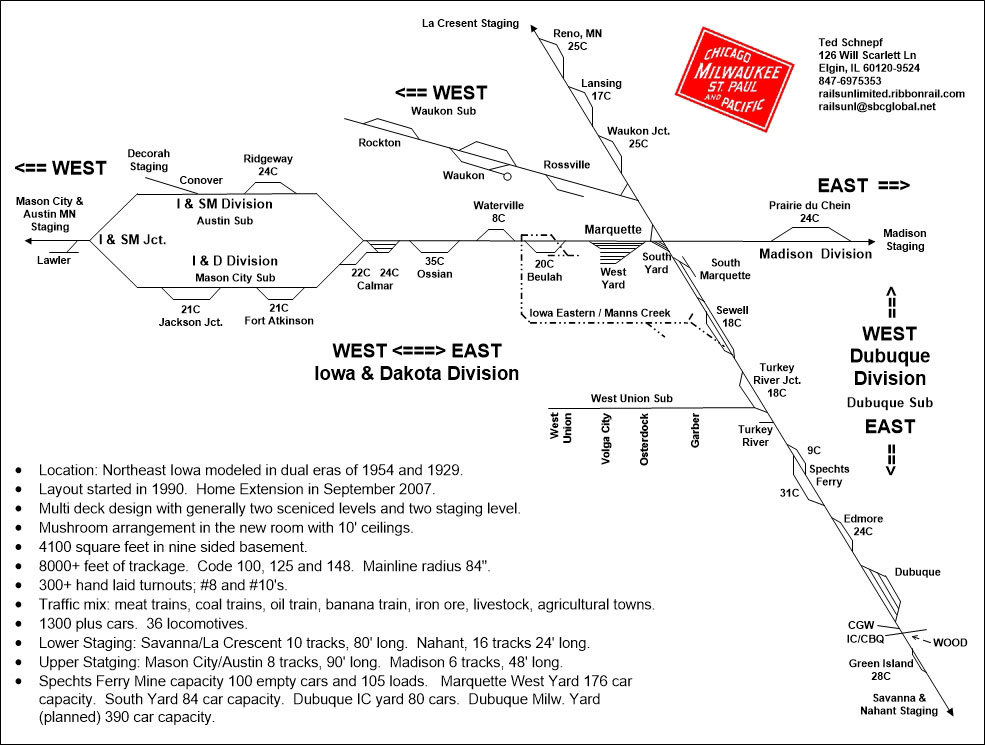 TOWN DIRECTORY
Iowa & Dakota Division (Marquette to Mason City/Austin)
Beulah: Interchange with narrow gauge Iowa Eastern Railway - top of helper grade.
Waterville: Small agricultural community with a creamery.
East Ossian: Powerplant (Coal destination).
Ossian: Large community with Rock Island interchange, a foundry, circular coal shed, cold storage, small packing plant and machinery company.
Calmar Junction Yard: Creamery, elevator, door factory and pickle station.
Ridgeway: Small farm community with main street facing the tracks.
Conover: Junction with Decorah Line.
Fort Atkinson: Farm town on a curve - crossing Turkey River.
Jackson Junction: Junction with Iowa Division to Ceder Rapids and small farm town.
Lawler: Small farm town.
Branchline
Garber: Schnepf warehouse, agricultural town.
Osterdock: Brick plant.
Volga City: Small agricultural town.
West Union: Large agricultural town, creamery, RI interchange.

Dubuque Division (Savanna/Nahant to LaCrescent)
Green Island: Interchange Iowa Division
Dubuque: Large city with both IC and Milwaukee yards. CGW and CBQ are also present. Packing plant, trackage in the streets serving many large industries. Milwaukee Road has a 40 car freight house.
Edmore: Limestone processing into cement (Vertical kilns), button factory.
Spechts Ferry: Coal mine with 4-50' loading tracks (One track is depressed for loading boxcars) & washer track. A ferry for carriages and autos.
Turkey River Junction: Interchange with interurban/branchline.
Turkey River: Small agricultural town.
Sewell: Coal & coke processor and narrow gauge interchange (Wilderness Lumber Company.)
South Marquette: River interchange - dock, warehouse, grain elevator.
Marquette: Major terminal/yard. Wye at passenger station. South Yard is the arrival/departure yard. West Yard is the classification yard. 80' turntable in engine terminal. Madison division connection (staged).
Waukon Junction: Junction with branchline, coal & Oil Dealer.
Lansing: Mississippi River town with a button factory and a live fish car pickup
Reno, MN: Passing track, Coal & Oil Dealer.
Waukon Branch
Rossville: Tiny farm town.
Waukon: County Seat, farm town.
Rockton: Iron mine and quarry.
PRIMARY TRAFFIC
Meat (refers) - Eastbound loads - from Iowa and Minnesota.
Coal - online mines, moving South, North and West.
Stone products - from Edmore, Rockton, Marquette and Dubuque.
Agricultural products - all towns.
Oil, bananas, stock and autos - Other trains.
Passenger trains: Through ("Marquette" & "Sioux") and local trains.





All Contents and Images © 1995 - 2016 Rails Unlimited